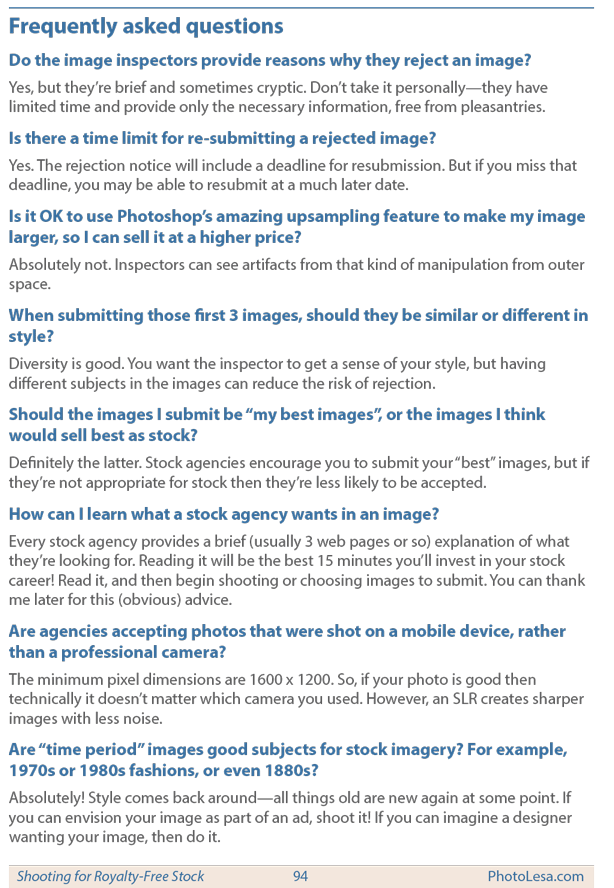 The Skinny on Shooting for Royalty-Free Stock
On Sale
$5.99
Preview
Photoshop User's 5-star review said: "This is truly a textbook on how and what to shoot to make money in the microstock photo market."
You can make money shooting stock photography, especially the super affordable royalty-free "microstock". However, many great photographers are jumping on the bandwagon, so competition is stiff. In this book, iStockphoto's former chief evangelist shares her insider tips for a successful career shooting microstock. Learn what kind of photos sell, five shoot ideas guaranteed to produce results, processing tips for Lightroom and Photoshop's Camera Raw, how to describe and keyword images so they'll be found, how to save and submit your files, and more.
Please see the Table of Contents below for a complete list of topics.
This is an eBook available in formats compatible with various book readers from Kindle to iBooks that you can read on a computer, tablet or even a smart phone. After you make your payment you will receive an email with a link to download the eBook in the format of your choice.
(A note about ebook quality: for the best visual quality, get the PDF version; for the best reflow experience, get the EPUB or iBooks version; to read on a Kindle, get the Kindle version.)
Pages
: 106
Table of Contents: 
Overview
What is royalty-free stock photography (microstock)?
The Big Players
Learn what sells
Trends in stock photos
About model and property releases
Processing tips
Leave space for copy
Get closer
Shoot from different perspectives
Avoid capturing text
Five shoots that work
Process your images
Remove Chromatic Aberration
Remove sensor spots
Metadata and Keywording
View your image at 100% and compare with original
Don't over-filter
Save as highest quality JPEG to submit
Titles and descriptions
Keywords
Quantity works
Frequently asked questions
Wrapping up
Learn more
About the author
Connect with Lesa
Lesa's videos
Lesa's books and discounts
eBooks
Acknowledgments
Copyright and disclaimers